Archive for November 2022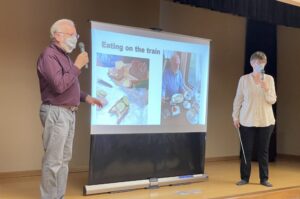 At Saturday's Friendship Hour, former Directors Barb and Dannie shared about their travels from 2019 to 2020, adventuring through Russia, the Baltic States, Palestine and Israel, and Europe, then finally back to their home in Indiana.
In addition to seeing beautiful places and visiting friends, they learned more of the history of Auschwitz, the Gaza Strip, the Mostar Bridge, and the home and grave of author and philosopher Leo Tolstoy.
After their presentation was Q&A and time for open conversation. Through this time of sharing, attendees had the chance to reflect on war and the pursuit of peace.
Thank you to everyone who attended!
See more photos on the official WFC facebook page >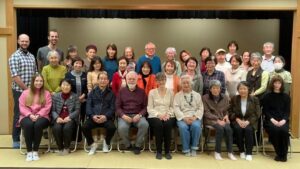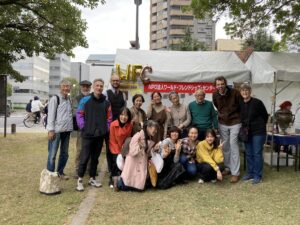 "International Festa 2022" has ended successfully.
Many people came to the "Hiroshima International Village – Food Stalls from Around the World." Thanks to all of your support, we sold out the sloppy joes.
Some people have shared with us that they "used to come to WFC in the past."
We also enjoyed the opportunity to talk with people from various countries.
We'd like to thank the many people who helped prepare for the event. Thank you from the bottom of our hearts.
We especially received so much help from our young friends today which we appreciate so much. Thank you!!
There was a little nervousness about opening a food booth for the first time, but thanks to all the help, we were able to finish the day without any problems.
We hope this led to more people getting to know WFC.
In the afternoon, WFC shared about our Peace activities, our founder and her history, and Co-Directors Matthew and Malachi shared about their lives in the US and Japan. Afterward, we received some great questions from the audience during a Q&A time. Thank you to everyone who attended! It was such a fun afternoon.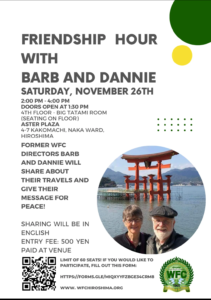 After finishing their service as Directors at WFC in 2019, Barb Shenk and Dannie Otto traveled the world.
At this Friendship Hour they will share about their journeys and experiences, and share a message of peace.
There will be time for Q&A and discussion at the end of their presentation. Hope to see you there!
Presentation will be in English
・・・・・・・・・・・・・・・・・・
Date & Time:
November 26, 2022 (SAT)
2pm – 4pm (Doors open at 1:30 pm)
Venue:
JMS Aster Plaza – 4th floor big tatami room
4-17 Kakomachi Naka-ku, Hiroshima
Admission fee: 500 yen at the door
There is a limit of 60 attendees, so register on this Google Form to reserve your spot.