"International Festa 2022"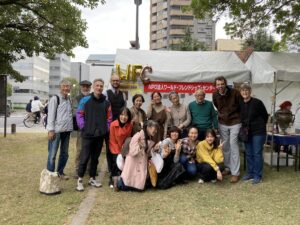 "International Festa 2022" has ended successfully.
Many people came to the "Hiroshima International Village – Food Stalls from Around the World." Thanks to all of your support, we sold out the sloppy joes.
Some people have shared with us that they "used to come to WFC in the past."
We also enjoyed the opportunity to talk with people from various countries.
We'd like to thank the many people who helped prepare for the event. Thank you from the bottom of our hearts.
We especially received so much help from our young friends today which we appreciate so much. Thank you!!
There was a little nervousness about opening a food booth for the first time, but thanks to all the help, we were able to finish the day without any problems.
We hope this led to more people getting to know WFC.
In the afternoon, WFC shared about our Peace activities, our founder and her history, and Co-Directors Matthew and Malachi shared about their lives in the US and Japan. Afterward, we received some great questions from the audience during a Q&A time. Thank you to everyone who attended! It was such a fun afternoon.