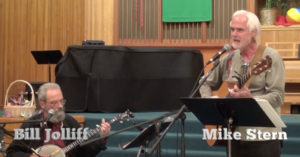 In October of 2021, a church in Oregon in the United States, McMinnville Baptist Church, put on a World Friendship Center. Ed Groff, of Brethren Voices, has produced a program from the concert, along with images from Hiroshima filmed by Brent Carlson when he visited WFC in November of 2019 . Mike Stern and Bill Jolliff were the featured musicians for the concert.
WFC is very familiar with Mike Stern since he has come to Hiroshima to share his music in the past. Bill Jolliff is a professor of English at George Fox University, a school founded by Quakers in Oregon. Both Mike and Bill's music bring themes of peace, and justice, and faith and our need to act when we see an injustice in the world.
Personally, we are good friends with Mike, Brent and Ed and have met Bill in the past. What a wonderful gift they have given us by capturing these songs from the concert. We also want to thank the McMinnville Baptist church for their support for World Friendship Center by putting on this concert. Though we are sure there were many helping hands to put on such an event, we wanted to recognize Erika Marksbury, pastor of the church, and Larry and JoAnn Sims, church members. Erika, Larry and JoAnn are on the board of the WFC support organization, The American Committee of WFC, and Larry and JoAnn are past volunteer directors at WFC (2011-2013).
In these past two years during the pandemic there has been such an outpouring of support for WFC by the many friends of WFC over the years. As our motto "fostering peace, one friend at a time" and our name "World Friendship Center" makes obvious, friends and friendship are at the core of WFC's purpose to spread peace to the world.
And now the concert from Ed Groff of Brethren Voices:
Our February edition of "Brethren Voices" featured the concert that Mike Stern and Bill Jolliff did in October for the World Friendship Center. You'll find it on: WWW.Youtube.com/Brethrenvoices


Roger and Kathy Edmark
Volunteer Directors (2019-2022)
World Friendship Center