Peace Studies & Reservations
The World Friendship Center offers
Peace Studies for guests
who would like to stay in Hiroshima.
If you are interested,
please fill out and submit the form below.
Peace Activities offered at WFC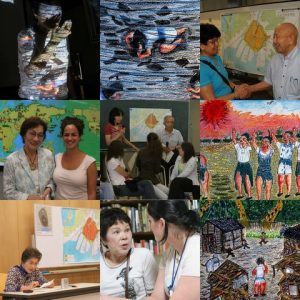 With advance notice, WFC can schedule Hibakusha (A-bomb survivor) first-hand accounts of how their lives have been impacted by the Atomic bomb. As well as sharing their stories of August 6th, 1945 and the effect on their lives and those that they loved, many Hibakusha also offer their vision and work for peace and forgiveness. The Hibakusha story typically includes time for your personal questions and concerns.
Hibakusha who share their experiences for the Peace Program
Tamiyuki Okahara, Sadae Kasaoka, Fumiaki Kajiya, Kiyomi Kohno,
Kiyoko Komeyoshi, Goro Nishida, Minoru Hataguchi, Soh Horie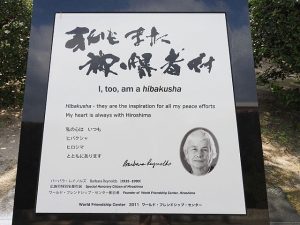 Knowledgeable Japanese Volunteers from Hiroshima and the surrounding areas provide a personalized tour of the Peace Memorial Park, in English, for hundreds of WFC guests annually. This tour of the Peace Park includes the meaning and history of several select monuments located throughout the Peace Park. Your personalized tour is a perfect complement to a visit to the moving and informative Peace Memorial Museum (not included in the tour) and a first-hand account of the A-bombing of Hiroshima by an A-bomb survivor (Hibakusha).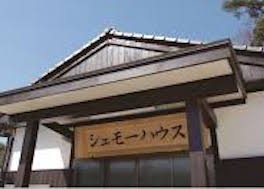 Floyd Schmoe was shocked and deeply pained by the dropping of the A-bomb on Hiroshima. He came to Hiroshima in 1949 to build houses for hibakusha with his own hands. The Schmoe House is the only one of these houses that remains today. 
A Japanese volunteer provides a personalized tour of the Schmoe House in English. (Available Tuesday to Friday)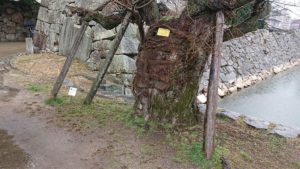 The A-bomb dropped on Hiroshima burned and destroyed not only people, but also animals and plants. However, some trees that had been exposed to the A-bomb survived. These trees gave the people of Hiroshima hope and the courage to go on living.
A Japanese volunteer gives guided tours of some of the A-bomb trees. (Available Monday to Friday)
Guests pay 4200 yen per person per day to do Peace Studies at WFC.
Children 6 to 11 half price; there is no charge for children under 6.

This fee includes a complete package of benefits to support guests' study of peace.
Benefits include:
Interacting, discussing topics and establishing friendships with the Directors and other guests;
Learning about Barbara Reynolds, hibakusha, peace and abolishing nuclear weapons;
Choosing Peace Activities (hibakusha talks; Peace Park, A-Bomb Trees and Schmoe
House guided tours) - these activities require scheduling, so advance notice is required;
Exploring peace topics through the English language library;
Providing guests with a place to stay and a simple breakfast each morning in a comfortable relaxed atmosphere;
Helping to navigate restaurants, transportation, cultural interests and other peace connections.

Long-term Discounts
Guests who stay one week or longer can have a long-term discount.

1 week                     5% discount
2 weeks                  10% discount
3 weeks and more  20% discount
If you are interested, please fill out the Reservation Form below.
Guests pay 1400 yen per person per activity.
Children 6 to 11 half price; there is no charge for children under 6.
WFC will schedule the Hibakusha, interpreters and guides necessary for the activities requested by guests.
Activities will occur on the day the guest requests, if offered on that day.
No more than three Peace Activities can be chosen in one day on the "Simple Plan."
We do not limit how many peace activities guests can request if they want to spread them over several days while in Hiroshima.
If you are interested, please fill out the Reservation Form below.
[wufoo username="mesdaze" formhash="rbb3ael1jp1bbl" autoresize="true" height="1189" header="show" ssl="true"]