Roger & Kathy Edmark passing the baton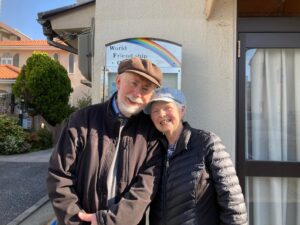 Cherry blossoms are in full bloom in Hiroshima.
Thank you for your continued support of WFC.
In March, the restrictions on entry into Japan were lifted, and at the same time, visas were issued to the incoming directors, Matthew and Malachi.
Originally, the change of directors was scheduled for last summer, but after a seven months delay, Matthew and Malachi arrived in Japan at the end of March.
The directors, Roger and Kathy, continued to work for WFC for seven additional months in the midst of a pandemic, even after their two-year term was up, willing to serve as long as they could. We cannot thank them enough.
We would also like to thank their families in Seattle who have been waiting so long for their return.
Roger and Kathy left Hiroshima on April 1, after a short transition period with Matthew and Malachi, and returned to their families in Seattle.
We believe the two years and seven months have been an enjoyable and precious time for the directors and for everyone who has spent time with them.
We would like to express our deepest gratitude for the kindness received from everyone.
Please visit the official WFC Facebook page for more photos of Roger and Kathy on the day of their departure.
We were blessed with beautiful weather on the day of their departure, and the beautiful Japanese spring🌸 landscape also saw Roger and Kathy off.