Hiroshima Shudo University's "Hiroshima Tour Guide Program"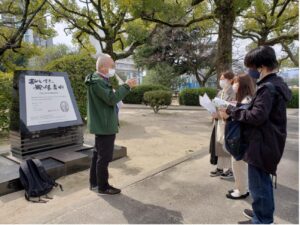 World Friendship Center members took part as guides in "Hiroshima Tour Guide program 2021" promoted by Hiroshima Shudo University. This program is designed to help students of Hiroshima Shudo University learn about the monuments in Peace Park, so that they will be able to guide visitors from abroad and also acquire skills to talk about "Hiroshima" in their own words.
The guided tours were carried out on March 10th and 11th under clear skies, and four members from WFC, Mikiko Shimizu, Yoko Mimura, Miho Ikeda and Katsumi Takahashi, participated as English-speaking guides. Split into four groups consisting of three students and one teacher, the tour lasted about 2 hours, including a Q&A session and some time to talk about experiences as guides.
All of the students were eager to take notes and asked many questions, and we learned a lot from them. We had a great time with the young students and had a meaningful time with them. We are so grateful.