Archive for December 2022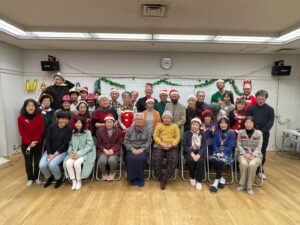 Thank you to everyone who came to the WFC Holiday Party!
We learned about Holiday traditions from cultures around the world, then representatives of each class and Peace Program had time to share! There was music, dancing, games, and even a very goofy skit!
Thanks to everyone who came out, and Happy Holidays from all of us at WFC!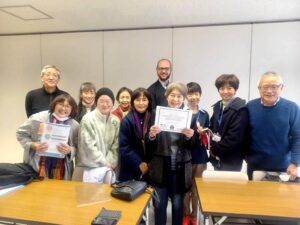 2022.12.3
Today was the last day of the eight-series guide training.
The first session began on July 2, and participants learned detailed explanations of the main monuments in the Peace Memorial Park and enjoyed a mini-English conversation class led by the Directors. Today, on the last day, the participants practiced reading from scripts in front of the three monuments in turn and received guidance from the Directors.
After that, we had a social gathering with delicious coffee made by Malachi (Director), and cookies made by Ms. Taguchi(Board member).
Certificates of completion was given out to each participant. We are very happy to announce that there was one participant who attended all 8 sessions
The guide training was a new initiative for us at WFC. It was a great opportunity for us to meet all the participants. Thank you very much.
We are planning to have two sessions in January and February next year to deepen our understanding of the Japanese text, so we hope you will join us.