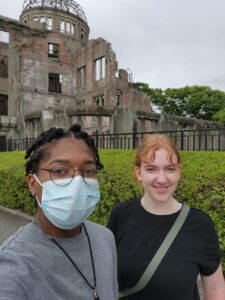 WFC is happy to welcome Aja Golliday and Laura Westpfal as interns from Illinois Wesleyan University!
Aja is a Psychology major with a minor in Japanese Studies, while Laura is a graphic design major with a minor in Japanese Studies, and this internship is one of the last tasks they have to complete before graduating!
They will be here until August 13th. As part of their learning experience, they've visited various sites at Peace Memorial Park and around Hiroshima, been introduced to WFC English Classes and the Riji, and have listened to hibakusha share their stories.
Aja and Laura have also been working on other projects: Aja is continuing work to label the various gifts and artifacts WFC has on display which will provide a richer experience to visitors of the center. Laura is applying her technical skills by improving the logos for the WFC Yu-Ai newsletter.

Stop by anytime to get to know them!
77th Memorial Day since the atomic bombing on August 6, 1945.
Barbara Reynolds, the founder of the World Friendship Center, had a consistent desire to "bring the voices of hibakusha to the world" and "abolish nuclear weapons."
However, 77 years later, the abolition of nuclear weapons has not been achieved.
We welcome you to join us for these programs,
remembering those who lost their lives  in the atomic bombing.
---
Hibakusha Talk by Ms. Toshiko Tanaka held in the morning (Japan time) would be in English only.
Please REGISTER here:  https://bit.ly/3AFdnyq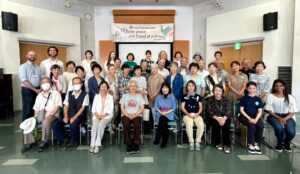 "Fostering peace, one friend at a time."
Yesterday WFC held our inaugural Friends Day at the Hiroshima International House!
Once again, we would like to thank everyone who attended in spite of the extremely hot weather. Thank you very much.
We had so much fun sharing history, recognizing volunteers, playing games, and chatting together.
We are pleased to have had this time to express our gratitude to all who support WFC.
We would also like to thank the college students from Jogakuin University, a former intern, and daughters of a staff member. It was because of the help of these young people who worked behind the scenes, that we were able to hold this event successfully. We are truly grateful to them.
We look forward to spending more time together with friends new and lifelong!
We hope you will continue to walk with us on our journey!
NPO World Friendship Center