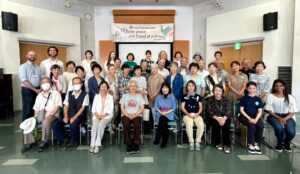 "Fostering peace, one friend at a time."
Yesterday WFC held our inaugural Friends Day at the Hiroshima International House!
Once again, we would like to thank everyone who attended in spite of the extremely hot weather. Thank you very much.
We had so much fun sharing history, recognizing volunteers, playing games, and chatting together.
We are pleased to have had this time to express our gratitude to all who support WFC.
We would also like to thank the college students from Jogakuin University, a former intern, and daughters of a staff member. It was because of the help of these young people who worked behind the scenes, that we were able to hold this event successfully. We are truly grateful to them.
We look forward to spending more time together with friends new and lifelong!
We hope you will continue to walk with us on our journey!
NPO World Friendship Center