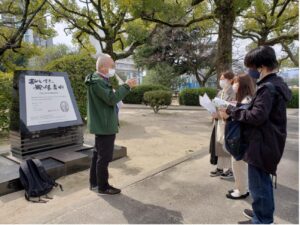 World Friendship Center members took part as guides in "Hiroshima Tour Guide program 2021" promoted by Hiroshima Shudo University. This program is designed to help students of Hiroshima Shudo University learn about the monuments in Peace Park, so that they will be able to guide visitors from abroad and also acquire skills to talk about "Hiroshima" in their own words.
The guided tours were carried out on March 10th and 11th under clear skies, and four members from WFC, Mikiko Shimizu, Yoko Mimura, Miho Ikeda and Katsumi Takahashi, participated as English-speaking guides. Split into four groups consisting of three students and one teacher, the tour lasted about 2 hours, including a Q&A session and some time to talk about experiences as guides.
All of the students were eager to take notes and asked many questions, and we learned a lot from them. We had a great time with the young students and had a meaningful time with them. We are so grateful.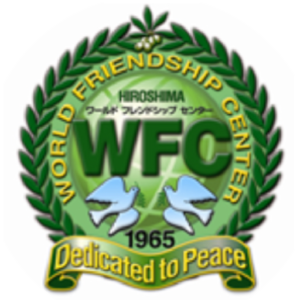 World Friendship Center's statement against Russia's invasion of Ukraine
We urge the Russian troops to stop their attacks on the Ukrainian people and withdraw from Ukraine immediately.
On February 24th, 2022, as the world looked on, Russian forces illegally invaded Ukraine.  The war has forced millions of Ukrainians to leave the country and the indiscriminate bombing of residential areas in Ukraine has killed many civilians.  The recklessness at which Russia attacked a nuclear power plant was unfathomable. We strongly condemn this hegemonic military invasion.
And even worse, Russian President Vladimir Putin by putting his nuclear weapons arsenal on high alert, is moving the world even closer to a cataclysmic war that could threaten the future of our civilization.
Hibakusha, who experienced the A-bomb that exploded over Hiroshima, know the devastation wrought by a nuclear bomb.  Their message to the world is clear.  What happened here in Hiroshima almost 77 years ago, and three days later in Nagasaki, must never happen again.
We know that nuclear arsenals do not bring about security nor peace. Until the day the threat of nuclear weapons is eliminated from the earth, we will continue to cooperate and appeal for the abolition of nuclear weapons together with people around the world.
Our thoughts are with the Ukrainian people, and we join with all those that are speaking out, to put an end to this conflict. 
March 10, 2022
NPO World Friendship Center 
Concurred with by:
American Committee of World Friendship Center, McMinnville, Oregon
Peace Resource Center of Wilmington College, Wilmington Ohio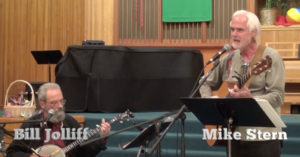 In October of 2021, a church in Oregon in the United States, McMinnville Baptist Church, put on a World Friendship Center. Ed Groff, of Brethren Voices, has produced a program from the concert, along with images from Hiroshima filmed by Brent Carlson when he visited WFC in November of 2019 . Mike Stern and Bill Jolliff were the featured musicians for the concert.
WFC is very familiar with Mike Stern since he has come to Hiroshima to share his music in the past. Bill Jolliff is a professor of English at George Fox University, a school founded by Quakers in Oregon. Both Mike and Bill's music bring themes of peace, and justice, and faith and our need to act when we see an injustice in the world.
Personally, we are good friends with Mike, Brent and Ed and have met Bill in the past. What a wonderful gift they have given us by capturing these songs from the concert. We also want to thank the McMinnville Baptist church for their support for World Friendship Center by putting on this concert. Though we are sure there were many helping hands to put on such an event, we wanted to recognize Erika Marksbury, pastor of the church, and Larry and JoAnn Sims, church members. Erika, Larry and JoAnn are on the board of the WFC support organization, The American Committee of WFC, and Larry and JoAnn are past volunteer directors at WFC (2011-2013).
In these past two years during the pandemic there has been such an outpouring of support for WFC by the many friends of WFC over the years. As our motto "fostering peace, one friend at a time" and our name "World Friendship Center" makes obvious, friends and friendship are at the core of WFC's purpose to spread peace to the world.
And now the concert from Ed Groff of Brethren Voices:
Our February edition of "Brethren Voices" featured the concert that Mike Stern and Bill Jolliff did in October for the World Friendship Center. You'll find it on: WWW.Youtube.com/Brethrenvoices


Roger and Kathy Edmark
Volunteer Directors (2019-2022)
World Friendship Center