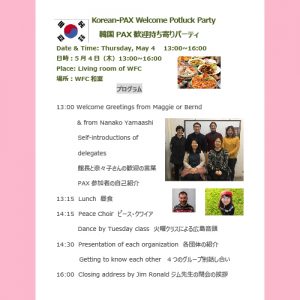 Date: Thursday, May 4
Time: 13:00~16:00
Place: Living room of WFC
Program
13:00
Welcome Greetings from Maggie or Bernd & from Nanako Yamaashi
Self-introductions of delegates
13:15  Lunch
14:15
Peace Choir
Dance by Tuesday class
14:30
Presentation of each organization
Getting to know each other
16:00  Closing address by Jim Ronald
We hope to see you!
Please tell us by April 25 if you plan to join us.
Email: wfchiroshima@nifty.com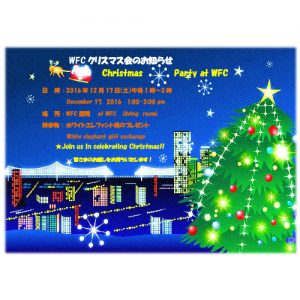 Christmas Party at WFC
Date & Time: December 17, 2016  1:00-3:00 pm
Place: at WFC  (living room)
Please bring something for the White elephant gift exchange

Join us in celebrating Christmas!!