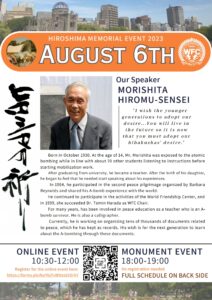 Join us for WFC's "August 6 Hiroshima Memorial Event 2023"!
Date: Sunday, August 6, 2023, 10:30 am / Saturday, Aug 5 PST: 18:30, EST: 21:30
Fee: Free of charge
Download the flyer for "Memorial Event">>

Listen to the Hibakusha Testimony of Hiromu Morishita-Sensei with time for Q&A; visit WFC to stay cool in the afternoon; take part in singing, poetry, and conversation at Barbara's Monument; and observe the lanterns launched at Motoyasu River at the end of the day.

Everyone is welcome to attend the event, so please come and join us.
We look forward to seeing you there!

10:30-12:00
Hibakusha Testimony by Hiromu Morishita-Sensei – hybrid online –
registration here: https://forms.gle/WqQGrC2ctqfCSix29

12:30-16:00
Open House at WFC (8-10 Higashi kannon-machi, Nishi-ku, Hiroshima City)

18:00-19:00
Sharing @ Barbara Reynold's Monument at Peace Memorial Park

19:00
Lantern Watching at Motoyasu River