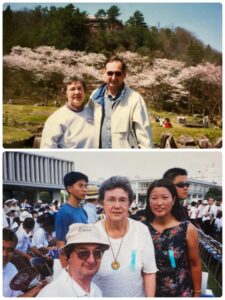 Lela Evaleen (Evie) Bertsche, former Director of WFC, passed away on February 3rd, 2022. We thank all of you for your kindness during Evie's time in Japan and beyond, and respectfully inform you of her passing.
"Evie Bertsche, who left a big footprint in our hearts."
On February 3, 2022, Lela Evaleen (Evie) Bertsche passed away at a nursing home in Goshen, Indiana. She was 83 years old.
She was sent by the Brethren Volunteer Service and the Mennonite Mission Network from 2001 to 2003 to serve as a Director of WFC alongside her husband, David.
During her term, she received more than 2000 guests from 47 countries, taught English classes, and participated in various peace activities.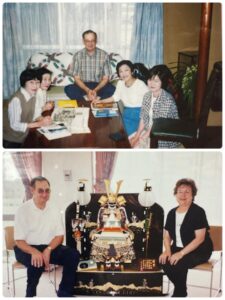 Thanks to Mr. and Ms. Bertsche, who strongly desired for good relations between Japan and Korea, Korean PAX started in 2003. We are sincerely grateful to them for building a bridge between Japan and Korea, our neighboring country. This legacy, Korean PAX, continues to this day.
After returning to the U.S., they settled in Goshen, where their children lived, and were actively involved in church activities. She also served as a Chair of the American Committee.
We will never forget Evie's compassion for people, kindness and smile. We learned from Evie that with thoughtfulness and a smile, any relationships will go well.
NPO World Friendship Center