Zoom Event from Hiroshima on August 6, 2021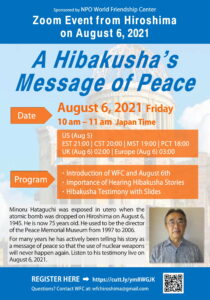 The central mission of WFC, formed in 1965, has been to provide a place where hibakusha (A-bomb survivors) could give their testimonies. Last year, due to the pandemic, people could not come to Hiroshima to hear their stories. So, this year, we are bringing a hibakusha to you. We do not want another year of unheard testimonies!
On August 6,2021, 76 years since the atomic bomb was dropped over Hiroshima, we are holding an online event to hear a hibakusha tell his story.
The event will be in English with hibakusha testimony given in Japanese with English translation.
We invite everyone to sign up and join us online on August 6th.

—————————————-
Zoom Event from Hiroshima on August 6, 2021
"A Hibakusha's Message of Peace"
Date/Time
Japan (Aug 6): 10am-11am
USA (Aug 5): EST 21:00 | CST 20:00 | MST 19:00 | PCT 18:00
UK (Aug 6): 02:00
Europe (Aug 6): 03:00
Program
Introduction of WFC and August 6th
Importance of Hearing Hibakusha Stories
Hibakusha Testimony with Slides
Speaker: Minoru Hataguchi
Minoru Hataguchi was exposed in utero when the atomic bomb was dropped on Hiroshima on August 6, 1945. He is now 75 years old. He used to be the director of the Peace Memorial Museum from 1997 to 2006. For many years he has actively been telling his story as a message of peace so that the use of nuclear weapons will never happen again.
Listen to his testimony live on August 6, 2021.

—————————————–