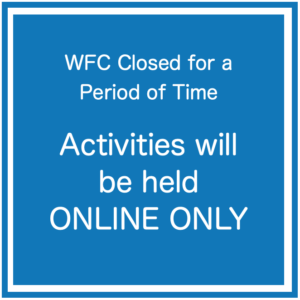 To all the people involved in WFC,
Thank you very much for your warm support and cooperation with the WFC.
As you all know, the number of positive cases of the new coronavirus has been increasing in Hiroshima City since early April. It is now at an unacceptable high level for the WFC; therefore, we would like to inform you of the following:
Effective immediately, April 29, 2021, all English conversation classes, events and activities will be held online only.
We will be closed for a period of time until the number of infected people in Hiroshima starts to decrease, and safety is confirmed. Please refrain from visiting the WFC and send your messages via email.
Thank you very much for your understanding and cooperation.
We hope that the new coronavirus will be resolved as soon as possible, and we sincerely hope for your safety and health.
WFC Chair, Michiko Yamane
WFC Directors, Roger & Kathy Edmark