Archive for December 2019
Yu-ai Friendship
Newsletter of the World Friendship Center, NPO


Experiencing Hiroshima through the World Friendship Center
Yovana Milosevic
(Translated by Sumiko Kanetsuna)


Briefly living in Hiroshima, Japan and staying at the World Friendship Center is easily the biggest blessing in my life. I encountered an entirely different culture by living in it for a month and a half, and there were surprises waiting for me at every corner. I was able to participate in daily discussions involving peace, compassion, kindness, and debates on current world issues. I attended numerous lectures on not only Hiroshima's history specifically, but also about how it has been represented in the media over time, what the current nuclear situation is, which countries do and do not possess nuclear warheads, current problems in Israel-Palestine, and the influence of Fukushima in modern politics.


In addition to these riveting and relevant lectures, I heard several accounts of what happened the day of August 6th, 1945. I was able to have conversations with people who survived that day, and all the days after. There was a palpable sense of resilience and love radiating throughout WFC, and now that I've returned, that is one of my strongest memories.


The hibakusha faced the world's most hideous atrocity, yet they live their lives focusing each moment on peace. They have devoted their lives to spreading peace, and this is not a sentiment anyone should take lightly. It is difficult to find positivity and hope for the future during such turbulent political times, yet the people at WFC make this their purpose. I was constantly inspired at WFC, and my hope for the future is that we all (myself included), take on the responsibility of actively advocating for peace. I appreciate the World Friendship Center, their English classes, the lovely members, and all of the profound experiences I had this past summer.


Copyright © NPO World Friendship Center 2019 All Rights Reserved
Yu-ai Friendship
Newsletter of the World Friendship Center, NPO


WFC Peace Seminar Activity Report
Observation tour to Tottori Yonago Solar Park and
Pumped-Storage Hydroelectric Power Station
by Asaka Watanabe
(Translated by Mikiko Shimizu)


Six members of the WFC Peace Seminar including the lecturer, Syoji Kihara, went on a trip October 22nd and 23rd.


It was a tour to learn from a variety of places, such as –
the circumstances of the Shimane nuclear power plant
an observation tour of the Matanogawa Pumped-Storage Hydroelectric Station between Tottori and Okayama
Tottori Nature and Environment Center which is a base of Tottori
Soft Bank Tottori Yonago Solar Park
Yonago Waterfowls Park, among others.


We listened to a lecture by Hitoshi Doko at his own tea house. The tea house "Yodoemon" uses an unoccupied house in front of his home in Yodoe-cho. We enjoyed delicious cakes and coffee there. Hitoshi is a councilman from Yonago who pursues the goal of denuclearization. His talk started with a quiz asking us where the Shimane nuclear power plant was located. Then, he told us about an evacuation route to be used if a very bad accident occurs. He indicated a problem for the entire Japanese island, because radioactivity would move downwind according to the direction of the wind – usually a wind from the west.


Tottori Nature and Environment Center is managed as a core institution for environmental education. The highlight is the Soft Bank Tottori Yonago Solar Park, which spreads out next to the center and is the largest solar power facility in Japan. The amount of electrical production is equivalent to that consumed in a year by approximately 12,000 ordinary households. Tottori Next-Generation Energy Park consists of over fifty facilities producing power from solar energy panels or hydropower or wind power. An eco-tour around the facility and other local sites was also provided.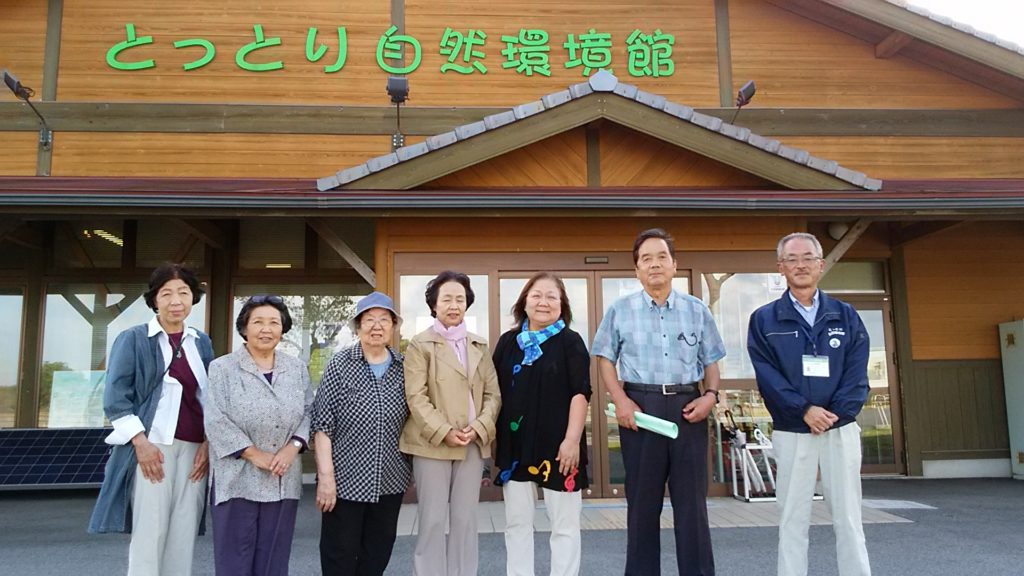 The Nature and Environment Center keeps a family of three goats to eat weeds. To help feed them, we picked leaves of the Kuzu vine (Pueraria lobate) on the river bank to give to the animals. As a side note, the Center does not use any herbicides, and the goats are actually more popular with the children than they are useful at eating weeds.


Near Nakaumi is Yonago Waterfowls Park, one of the best wild fowl habitats in western Japan. Here you can find nearly 42% of all the types of wild fowls found in the nation. These amount to about 120 kinds of wild fowl and more than 10,000 total birds. Yonago Waterfowls Park has been operating as an institution, with the assistance of concerned citizens, who together help protect and preserve nature. We enjoyed observing water fowl through a telescope in the observation hall while listening to a volunteer instructor's explanation. A wintering place for a whistling swan group is located at the southern border of Japan. Unfortunately, we couldn't see the graceful fowls in their group as they had swum out for food.


The next morning, we visited Matanogawa pumped-storage hydroelectric power station, which was the main purpose for this trip. Matanogawa dam produces 1,200,000kw by using the 500m difference in the height of the upper and lower dams. The upper reservoir (Doyoh dam in Shinjho-mura, Okayama) and the lower reservoir (Matanogawa dam koufu-cho in Tottori) are large-scale facilities connecting both prefectures – Okayama and Tottori. There is an underground power house located beneath the lower reservoir, where the electric power is produced in daytime. Water is pumped up at night time by reversing the rotation direction of a reversible pump-turbine and generator motor.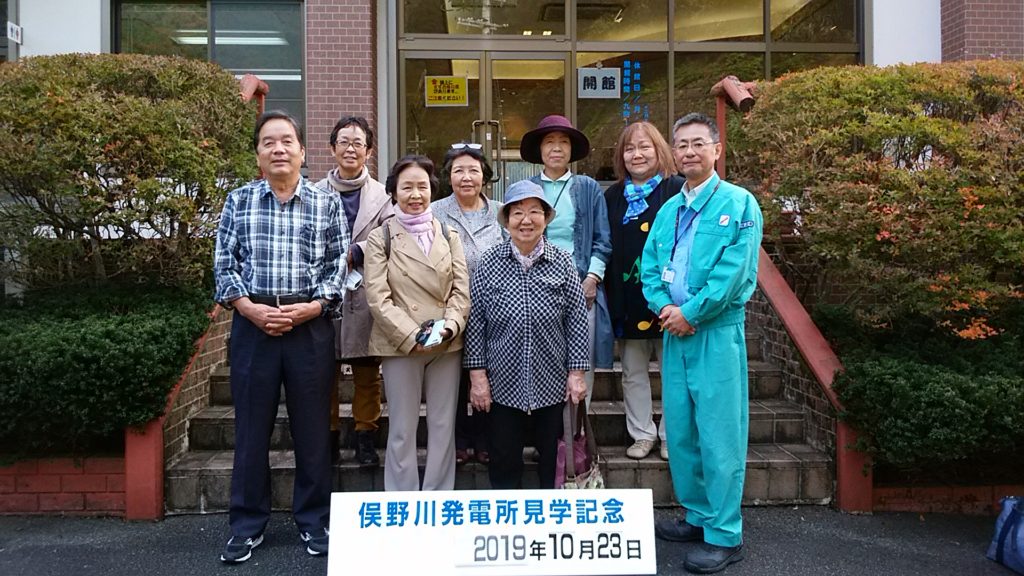 The pumped-storage hydroelectric power's role is to make up for the difference in demand because it changes depending on the season, time, and day. It also changes in dry weather by using solar energy generation. Quite simply, the plant plays a prominent role in charging or discharging a large rechargeable battery.


During the night when the usage charge is less, water is pumped up from the lower reservoir using the electric power from the thermal power stations or the nuclear power stations. The electricity in the daytime, when it is in great demand, is produced by dropping water into the lower reservoir from the upper reservoir and adjusted to the demands of consumer power. It is then sent as electricity to homes or factories. It takes 7 hours to create electricity by dropping water from the upper reservoir to the lower reservoir and 10 hours to pump it up from the lower reservoir to the upper reservoir. Though it might seem to be a loss of 3 hours, this gap in time is necessary to maintain a stable supply of electricity.


Chugoku Electric Power Company has Matanogawa pumped-storage hydroelectric power station and two other pumped-storage hydroelectric power stations – Shinnariwagawa in Okayama (with a power capacity of 303,000kw) and Nabara in Hiroshima (with a power capacity of 620,000kw.) I thought that the mechanism to balance production of electric power by using different sources was very interesting.


The leaves around the pumped-storage hydroelectric power station have already begun to turn to fall colors. There seemed to be a chance to meet monkeys, deer and wild boar, maybe even a bear……unfortunately, we couldn't see the underground power house this time because of ongoing construction.


We saw a catch-phrase of "Riches of Abundant Nature, Tottori" written in a pamphlet. I felt that the effort toward nature and the environment which Tottori is undertaking – repeating trial and error time after time – will become the theme of living and be passed on to the next generation. This was our educational trip to be applied in a variety of ways in our future activities.


It was beautiful weather! We spent time in a relaxed atmosphere sharing lunch, which we got at the road station, "Takano", and took in a scenic overlook of Lake Shinjiko. We stayed in a hotel called "Unabara Soh" one night and enjoyed a hot spring, delicious meal, and conversation. It recharged our energy!


When we came back, we drove in Bihoku Hillside National Government Park; unfortunately, we couldn't see the field of cosmos flowers – it had closed a day before. After eating lunch at a restaurant in the park, we stopped by Miyoshi boutique winery to buy some souvenirs and left for home.


Dear Syoji Kihara,
Thank you so much for planning, preparing, and driving on the trip, with plenty of attention to us.
We offer our heartfelt thanks.


In writing this report, I used many phrases and thoughts of the participants' emails.


Copyright © NPO World Friendship Center 2019 All Rights Reserved