Yu-Ai September issue 2019 — New Directors Roger & Kathy Edmark
Yu-ai Friendship
Newsletter of the World Friendship Center, NPO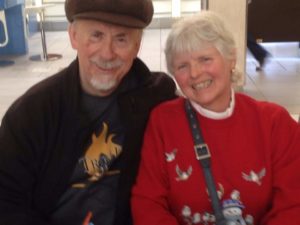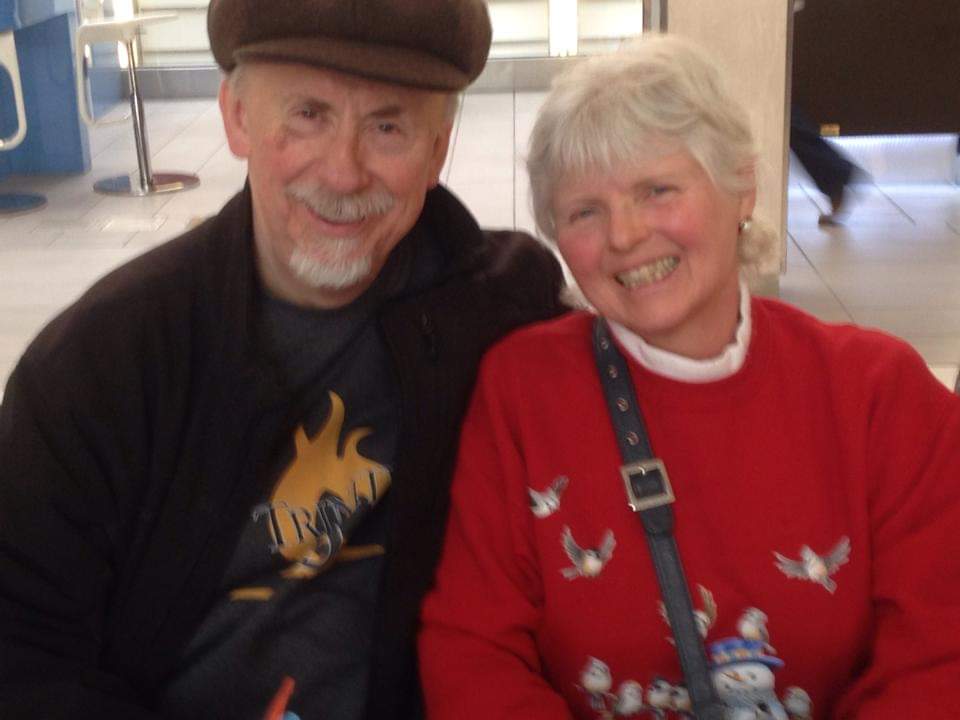 Greeting from Roger and Kathy Edmark, new co-Directors of the World Friendship Center.  We have now been in Hiroshima for over a month and are enjoying our time at WFC.  We would like to thank all of the staff and volunteers at WFC for the warm welcome we have received.

Roger Edmark
I was born in North Dakota, in the USA. Before I was one year old, my parents moved to Seattle. They packed up my older sister and me in the car and drove to Seattle to look for milder weather and better employment opportunities. Within one week, my father was employed by the Boeing Company. Twenty-two years later, I too would be employed by Boeing.
All of my schooling, grade school through high school, was in Seattle. My favorite activity as I grew up was playing baseball which I did through High School. I have always loved sports (baseball, softball, basketball, golf and others) either participating, coaching, or watching it. After high school I worked for Norse Home, a retirement home in Seattle. I was a pot and pan washer. I continued to work there after enrolling at the University of Washington, also in Seattle. I first studied Architecture, but eventually received a BA in Philosophy. After graduating, I worked for the Boeing Company for 43-years, mostly in Aerodynamic Engineering. My job involved international travel, and Tokyo Japan was a frequent destination.
When I was in my 50's, I was told by the doctor that I had a heart murmur. The murmur was caused by a congenital heart defect of my aortic valve. I would need to have it fixed if I wanted to live a normal active life. So, at 57 years of age I had an operation to replace the faulty valve with a new artificial one. Today, my heart works like a clock – it literally beats one beat per second. My grandchildren like to put their heads on my chest and hear the clock (heart valve) click away. The whole process was a reminder that there are no guarantees as to how long we live, so we need to cherish each day as it comes.


Kathy Edmark
I was born in Twin Falls Idaho. My parents accepted a call from the Christian church to go as missionaries to Miyako Jima when I was 4 years old. For the next 11 years I lived in Miyako, Kobe Japan and Okinawa with 1 year in Seattle. When I was 15 years old, I returned to Seattle where I completed my last two years of high school. I too got a job at Norse Home in my last year of high school, which is where I met Roger. Three years later, we were married.
My first job after getting married was in the home, which took all of my time until all four of our children were in school. I then answered a call to serve in our church for a couple of years as Christian education director. After that I became a para-educator in the school district our children were attending. I worked for the school district for 25 years.
One of my skills has been sewing. My grandmother started me sewing at a young age. The rest I learned from directions on patterns. I made and sold Barbie doll clothes as a first "job". I made some of my own clothes as a teenager. I made my own wedding dress! One time I made outfits for all 4 of my children including a 3-piece suit for my son for a family picture. I did a lot of sewing for my daughter Aimee's ballet school, including short tutus. I made my first daughter's wedding dress and her attendants' dresses. My second daughter would only let me alter her purchased wedding dress, to save me stress, but I had to take it apart to do that. Sewing has given me a great feeling of accomplishment as I take a flat piece of fabric and create something beautiful and or useful. I don't sew very much any more because of hand pain but I have altered 4 of Roger's shirts by hand stitching since we arrived. A useful skill.
My faith has led me to be very active in my church. I have been a Sunday school teacher most of my life, usually with children, but also with youth and young adults. Bible Study Fellowship, an interdenominational Bible study, was an important part of my life for 7 years. Part of that time I also worked in the children's program. Two years ago, our daughter became the Food Services Director of a camp and conference center, Camp Koinonia, and asked if I would like to be her volunteer assistant. So, for about one year, we lived half our time at the camp and half the time in our home north of Seattle. The camp was in transition, so Roger became the Development Director there at about the same time.


Kathy and Roger
Two months after we were married in 1973, we were asked to be one of two security couples at another retirement home, Northaven. We lived there for one and one-half years. That began a 46-year relationship with Northaven. For 36 years, Roger has been a member of their board of directors and most recently as board President. He is now an Emeritus member of the board.
Our home church in Seattle is Olympic View Community Church of the Brethren. Church of the Brethren is a historic peace church in the USA. "Brethren Volunteer Service (BVS)", a ministry of the Church of the Brethren, is how we learned about WFC. We have both been involved in many church leadership positions and church activities from the time our children were young.
As a family we loved to spend time in the outdoors. We did not do that so our children would love the outdoors, but that is what happened! They all love the beauty and wonder of nature! A favorite place today is the beach house where we have part ownership. It is on the water one hour north of our home. Kayaking, strolling on the beach, relaxing in the hammock and enjoying friends and family are all things we enjoy at the beach cabin.
Serving others is important to Kathy and me and our children have caught that bug as well. They have also chosen occupations and volunteer activities in their lives which serve others. Fifteen years ago, we learned about WFC and immediately were interested. We even came to WFC fourteen years ago when Roger had a business trip to Tokyo. We explored Hiroshima and stayed a night at WFC. We have a motto on a plaque at home which says "God does not ask about our ability or inability but about our availability." We made ourselves available to WFC and were called to serve, so here we are! In the short time we have been here, we have met many wonderful people and have hosted many interesting guests. We have seen how valuable the mission of WFC is: to share a message of peace through relationship building, listening, storytelling, especially Hibakusha stories, and having a peaceful place for people to stay.


Copyright © NPO World Friendship Center 2019 All Rights Reserved