Yu-ai Friendship
Newsletter of the World Friendship Center, NPO
Experience& mini Report of internship at WFC
Mirabelle Chen
After a week of delay of my arrival and all the hustle from my visa, I finally arrived in World Friendship Center in Hiroshima on a sunny afternoon on May 20th and began my amazing six-weeks experience.
For two weeks after my arrival, I had to skype in for my Japanese crush course at 6 am in the morning. Even though it was only a 8 weeks course, I still learnt quite some Japanese—it was worth it totally.
I absolutely loved my one-week experience at Peace Culture Village. People today talk about peace all the time, but do they really know what peace is? As an experimental community, PCV gets people into thinking about what peace actually means. Usually, there're guests coming and going, either staying at PCV for a night or only participate in daytime works; this week, with Mr.Steven Leeper and some other directors and staffs gone, it was only me and Mary Popeo in the village–but we still had an amazing time, and I have much thank for her patience and understanding(my extreme fear of insects, nameless bugs, etc.)! Growing up in Beijing, which is a big city, I've barely had any chance to actually live in the countryside and there're lots of things that are new and interesting for me: going to sleep with the sound of frogs on a summer night; waking up by the chicken and the sunlight; planting and eating our own crops for meals…everything was exciting and brand new for me.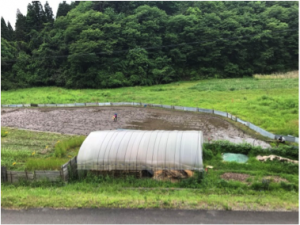 I can't thank WFC and Shudo University enough for giving me the incredible opportunity to join their English class. On Monday and Thursday mornings, I go there to help with their English class, and on Wednesday in the afternoon to join the English Communication and Chat Club. They are mostly freshmen students with English majors. Looking at them reminded me of myself 5 years ago in a high school classroom–a girl with poor English, too shy to speak with foreigners, always nervous when asked a question in class–and that makes me really want to try my best to help them. Also, they were the first group of younger people that I've met since I've come here. Since most people coming to the WFC are over 40, it was nice to talk to someone of my own age. Everyday it takes about 1 hour and a half to go back and forth, but I'd say the experience is totally worth the time and waking up at 6:30 in the morning. Everyone was extremely friendly, even some don't speak perfect English and could only barely communicate—their smiles made me feel super welcomed. I'm always surprised at how fast they're learning and how passionate they are for each class, of course one big reason was how funny and dedicated Mr. Ronald is, as a teacher and as a friend.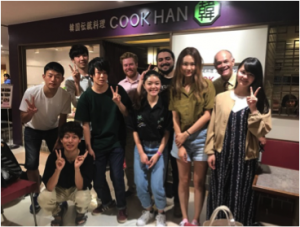 On the fourth weekend, I had the honor to be invited to join WFC's board meeting. Since most of the board members don't speak English, the meeting was mostly conducted in Japanese, and Barb was the translator for both me and Dannie. I also gave a self-introduction in Japanese which seemed to be impressive, so I'd say the Japanese crush course was actually really helpful! The meeting was conducted efficiently and it was amazing to just attend and listen to a meeting in Japanese!
I'm sure I'll be back in Japan one day! For World Friendship Center, for all the friends I've made, for Okonomiyaki—my favorite food from Hiroshima, and of course, for so much more!
Copyright © NPO World Friendship Center 2018 All Rights Reserved