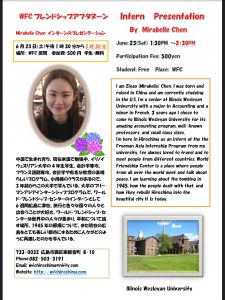 Intern Presentation by Mirabelle Chen
June 23(Sat) 1:30PM ~2:30PM
Place: WFC
Participation Fee: 500yen
Student: Free
I am Ziyao (Mirabelle) Chen. I was born and raised in China and am currently studying in the U.S. I'm a senior at Illinois Wesleyan University with a major in Accounting and a minor in French. 3 years ago I chose to come to Illinois Wesleyan University for its amazing accounting program, well-known professors, and small class sizes.
I'm here in Hiroshima as an intern at the the Freeman Asia Internship Program from my university. I've always loved to travel and to meet people from different countries. World Friendship Center is a place where people from all over the world meet and talk about peace. I am learning about the bombing in 1945, how the people dealt with that, and how they rebuilt Hiroshima into the beautiful city it is today.