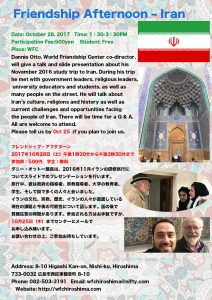 Date: October 28, 2017
Time: 1:30~3:30PM
Participation Fee: 500yen
Student: Free
Place: WFC
Dannie Otto, World Friendship Center co-director, will give a talk and slide presentation about his November 2016 study trip to Iran. During his trip he met with government leaders, religious leaders, university educators and students, as well as many people on the street. He will talk about Iran's culture, religions and history as well as current challenges and opportunities facing the people of Iran.
There will be time for a Q & A.
All are welcome to attend. Please register in advance.
Please tell us by Oct 25 if you plan to join us.