Archive for September 2017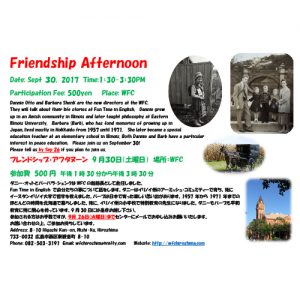 Date: Sept 30, 2017
Time: 1:30-3:30PM
Participation Fee: 500yen
Place: WFC
Dannie Otto and Barbara Shenk are the new directors at the WFC. They will talk about their life stories at Friendship Afternoon.
Dannie grew up in an Amish community in Illinois and later taught philosophy at Eastern Illinois University. Barbara (Barb), who has fond memories of growing up in
Japan, lived mostly in Hokkaido from 1957 until 1971. She later became a special
education teacher at an elementary school in Illinois. Both Dannie and Barb have a particular interest in peace education.
Please join us on September 30!
Please tell us by Sep 26 if you plan to join us.
Email: wfchiroshima@nifty.com