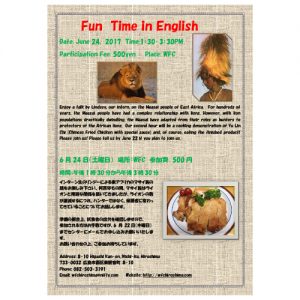 Date: June 24, 2017
Time: 1:30-3:30PM
Participation Fee: 500yen
Place: WFC
Enjoy a talk by Lindsey, our intern, on the Maasai people of East Africa.  For hundreds of years, the Maasai people have had a complex relationship with lions. However, with lion populations drastically dwindling, the Maasai have adapted from their roles as hunters to protectors of the African lions.
Our second hour will be a cooking demonstration of Yu Lin Chi (Chinese Fried Chicken with special sauce) and, of course, eating the finished product!
Please join us! Please tell us by June 22 if you plan to join us.
Email: wfchiroshima@nifty.com