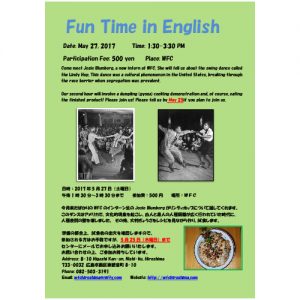 Date: May 27, 2017
Time: 1:30-3:30PM
Participation Fee: 500 yen
Place: WFC
Come meet Josie Blumberg, a new intern at WFC. She will tell us about the swing dance called the Lindy Hop. This dance was a cultural phenomenon in the United States, breaking through the race barrier when segregation was prevalent.
Our second hour will involve a dumpling (gyoza) cooking demonstration and, of course, eating the finished product!
Please join us! Please tell us by May 25 if you plan to join us.
Email: wfchiroshima@nifty.com