Archive for February 2017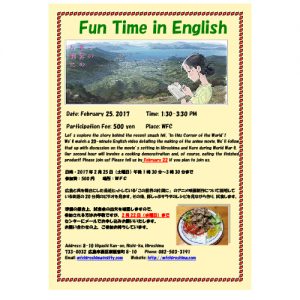 Date: February 25, 2017
Time: 1:30-3:30 PM
Participation Fee: 500 yen
Place: WFC
Let's explore the story behind the recent smash hit, "In this Corner of the World"! We'll watch a 20-minute English video detailing the making of the anime movie. We'll follow that up with discussion on the movie's setting in Hiroshima and Kure during World War ll.
Our second hour will involve a cooking demonstration and, of course, eating the finished product! Please join us!
Please tell us by February 22 if you plan to join us.
Email: wfchiroshima@nifty.com