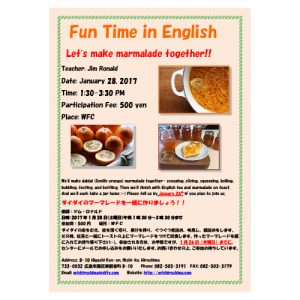 Let's make marmalade together!!
Teacher: Jim Ronald
Date: January 28, 2017
Time: 1:30-3:30 PM
Participation Fee: 500 yen
Place: WFC
We'll make daidai (Seville orange) marmalade together- scooping, slicing, squeezing, boiling, bubbling, testing, and bottling. Then we'll finish with English tea and marmalade on toast. And we'll each take a jar home.
Please tell us by January 26th if you plan to join us.
Email: wfchiroshima@nifty.com