Archive for November 2016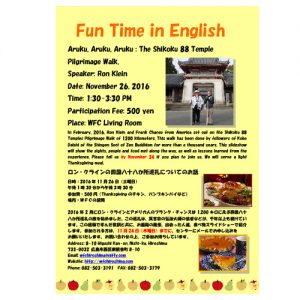 Aruku, Aruku, Aruku:
The Shikoku 88 Temple Pilgrimage Walk
Speaker: Ron Klein
Date: November 26, 2016
Time: 1:30-3:30 PM
Participation Fee: 500 yen
Place: WFC Living Room
In February, 2016, Ron Klein and Frank Chance from America set out on the Shikoku 88 Temples Pilgrimage Walk of 1200 kilometers. This walk has been done by followers of Kobo Daishi of the Shingon Sect of Zen Buddhism for more than a thousand years. This slideshow will show the sights, people and food met along the way, as well as lessons learned from the experience.
Please tell us by November 24 if you plan to join us.
We will serve a light Thanksgiving meal.
Email: wfchiroshima@nifty.com