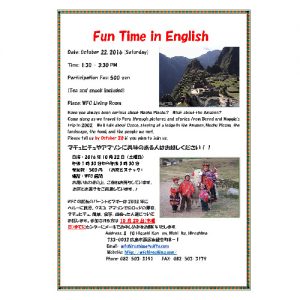 Date: October 22, 2016 (Saturday)
Time: 1:30 – 3:30 PM
Participation Fee: 500 yen  (Tea and snack included)
Place: WFC Living Room
Have you always been curious about Machu Picchu?
What about the Amazon?
Come along as we travel to Peru through pictures and stories from Bernd and Maggie's trip in 2002. We'll talk about Cusco, staying at a lodge in the Amazon, Machu Picchu, the landscape, the food, and the people we met.
Please tell us by October 20 if you plan to join us.
Email: wfchiroshima@nifty.com