Archive for November 2021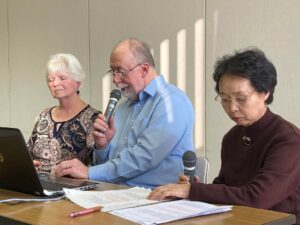 On Saturday, November 20th, 2021, WFC participated in the "22nd International Festa."
The title of WFC's presentation for the event was, "Barbara Reynolds who walked alongside the Hibakusha" which was presented both in English and Japanese.
We would like to thank everyone who joined to hear our presentations.
The first thing we wished to share was about an American woman in Hiroshima named Barbara Reynolds who, as the title says, "walked alongside the hibakusha."
The second was that there is a peace organization in Hiroshima called the "World Friendship Center" which Barbara founded that is still actively working based on her vision.
And the third was about the many Directors who have come to Japan from the U.S. over the years as volunteers to work together with us.
Though we could not see your faces, since the presentations were done online, it is our hope that we conveyed the story of
Barbara Reynolds
, the American woman who continued to walk alongside the hibakusha in Hiroshima.
We were told that the recording of the event will be open to the public for a limited time, so once we receive more information about it, we will let you know.
We would like to convey our deep gratitude to SHINOMOTO GROUP who gave us technical support and to Hiroshima Peace Culture Center for sponsoring this event.